Massage Therapist
Pilates Instructor
Rehab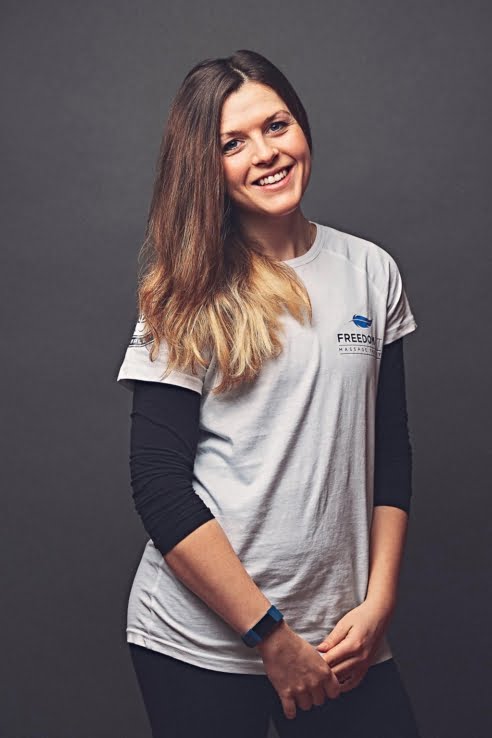 I'm Gemma, a specialist in injury and rehabilitation. My aim is to address reductions in pain and stress, whilst optimising quality and range of movement throughout the body.
My personal ethos is to dig down to the root of the problem and in that way avoid the more common, and far less effective, 'band-aid approach' taken in the larger industry.
My priority is to re-educate you on the most ideal movement patterns; raising body awareness, improving structural alignment and fascial health; whilst growing your confidence and understanding of your own body. By providing you with the tools and empowering you to use them, we can improve your condition and allow you to return to the best of your health, in the shortest amount of time; operating as a whole, fully-functioning machine that you are! In my opinion EDUCATION IS KEY!
Everyone I work with is given a very individual and specific course of treatment to include a combination of movement assessment, soft tissue therapy (hands-on massage techniques), and Pilates-based exercises to stretch and strengthen as necessary. A whole body, holistic approach is used, and a program prescribed as required.
This process is a journey, we work as team to enable you the most OPTIMUM FREEDOM OF MOVEMENT, so yes you will be set homework to speed up the process!
This therapy style is appropriate for:
Acute and chronic injuries (e.g. Labral hip tears, shoulder impingement).
Post-operative rehabilitation
Musculoskeletal conditions (arthritis and osteoporosis)
Athletes with frequent 'niggles'
Postural related pain
And many more…
I have a wide range of experience, working with both physically active and inactive clients, international athletes, actors/performers, dancers, office workers and many more, all for a wide variety of reasons.
I also provide stand-alone Soft tissue treatments including: Scar Tissue Release, Myofascial Release, Trigger-Point Therapy, Muscle-Energy Techniques, Soft Tissue Release and Dry Needling combinations to help recovery from intense training, reduce stress, increase flexibility, reset tissue length; promote healing and relaxation where this is deemed more appropriate.
As well as individual appointments, I also deliver group Stretch & Movement classes on a weekly basis; small workshops, focusing on very specific topics around injury prevention and management; specific stretching methods and using tools.
Most injuries occur due to the way in which we use our bodies on a daily basis, small habits we don't even know we have! Once we've been made aware, the changes that occur are incredible and so, the healing journey begins.
I look forward to working with you.
Gemma Beal MSc.
Soft Tissue and Rehab Therapist.
Specialist in Pilates (APPI) and Sports Massage (ISRM).
MASSAGE THERAPY PRICES WITH GEMMA
Initial Comprehensive Consultation

90 mins

£

90
Subsequent One-Off Treatments

60 mins

£

75
Subsequent One-Off Treatments

90 mins

£

110
Emergency Clinic

Saturdays 9am-12pm only

60 mins

£

85
5 x 60 min treatments

£

340

£35 saving!
5 x 90 min treatments

£

495

£55 saving!
10 x 60 min treatments

£

675

£75 saving!
10 x 90 min treatments

£

990

£110 saving!