Myofascial Release Therapist for Chronic Pain & Trauma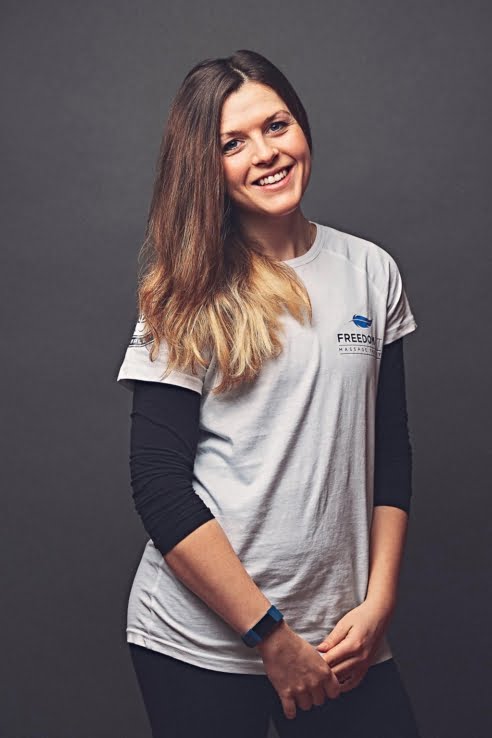 Gemma is a Soft Tissue Therapist, specializing in Myofascia Release for Chronic Pain and Trauma.
Gemma's sole desire through her work, is to help each person presenting with chronic pain, to get to the root of the issue and exploring the possibility that the answer is far deeper in our nervous system than one might imagine. Humans are extremely resilient, but we each respond very differently to stressors from everyday life and traumas from childhood, or any significant life event. It is known that body's (namely within the fascia), hold on to stress and whilst the brain has the ability to suppress and repress these emotions, the body shows signs of suffering over time; often manifesting into injuries, illnesses and chronic pain. Along with allergies, stomach issues, skin complaints, arthritis and so much more. Fascial focussed bodywork can help considerably by reconnecting you the body and brain. Touch alone is so healing and an essential need of every human being.
Gemma aims to create a safe space for the body and mind to relax. Initially the aim is to calm the nervous system and allow the body to be heard, understood and allow for healing to occur.
Whilst studying Exercise Science (MSc), Gemma specialised in the use of behaviour change to prevent and treat lifestyle-related disease. She then pursued a career as a Personal Trainer in a variety of corporate gyms across London. She further trained as an Exercise Physiologist, testing markers of physical and mental health, educating on healthy living, wellness, disease prevention, fitness, stress reduction and promoting overall well-being.
This swiftly lead to her uncovering a fascination for Bodywork and the healing powers of Hands-on Therapy.
Now as a fully qualified, Level 5 Soft Tissue Therapist, specialising in Myofascial Release and Scar Therapy, her goal is to only help share her ever-growing knowledge and passion for enabling the whole human system to rebalance and restore.
Gemma shares openly about her personal history with mental health, exercise addiction, food restriction, injury and pain, finally leading to hip surgery and a complete turn around in her own approach to her body and mind; allowing a transformation (still in progress through life's journey), fuelling her passion to help others to truly reconnect to themselves and honour their bodies with the upmost respect!
She has grown my business here at The Commando Temple since 2017 and has also began running smaller clinics in Norwich and Bristol; treating a whole variety of clients from the sedentary to the international athlete, those with a history of psychological and physical traumas, injuries and pre/post operative clients also.
For more information about Gemma and how she runs her treatments, please see her website: Fascia Freedom
Qualifications:
MSc Physical Activity for Health
BSc Exercise Science (1st class hons)
Diploma in Exercise Referral
Level 3 Advanced Fitness Instructor Award
Level 3 Diploma in Whole Body Massage (ITEC)
Level 3 Deep Tissue Massage
Level 3 Lymphatic Drainage
ITEC Level 3 Diploma in Sports Massage
Level 1 + 2 Reiki Healing
Pregnancy Massage (Yve Hollistic)
Cor-Kinetic Functional Therapeutic Movement (Ben Cormack)
Anatomy Trains in Structure & Function (Thomas Myers)
Kinesiology Taping (John Gibbons, Ost.)
BodyMaster Method Training (John Gibbons, Ost.)
Acupuncture for Sports Injuries (Bernard Nolan)
Level 5 Diploma in Soft Tissue Therapy (LSSM)
Body Mapping and Movement Specialist (HPT5)
Pilates Matwork Level 3 (APPI)
Myofascial Release Diploma (Amanda Oswald)
Advanced Myofascial Release (Amanda Oswald)
Scar Therapy (Restore Scar Therapy)
Review:
"Gemma is a fantastic therapist that I can't recommend highly enough. She has helped me return to competitive strength training after surgery and significantly reduced my pain and mobility issues. Moreover, Gemma is a font of knowledge, which she shares freely, to help you understand how you can help improve your own condition outside of the treatment room."
— Anna Donovan