Sports Massage Therapist, CTHA.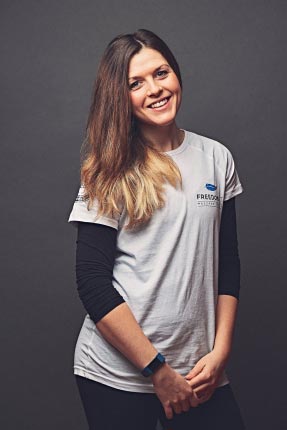 Gemma is a highly intuitive Massage Therapist – using a combination of Holistic, Sports Massage, Soft Tissue, Deep Tissue, Myofascial Release, Advanced Stretch and Trigger Point techniques to maximise the positive impacts of a remedial massage treatment.
She works with individuals who want to prioritise their body and health in a holistic manor, knowing the importance of having a strong and mobile body in order to perform at its optimum ability and capacity at all times, helping others to gain a level of balance and respect for their body.
The positive impacts of massage on an individual are remarkable, from stress relief, increased circulation, increased immunity, reduced muscular tension, break down of scar tissue, removal of toxins, increased muscle tone, increased range of movement at a joint, reduction in pain and increase in strength capacity and performance.
Many soon realise, that after incorporating regular massage into their training regime, that it is far from a luxury, but in fact, a necessity for optimal performance; to remain injury free, speed up recovery and feel the overall health benefits of relaxation in body and mind.
Reducing the levels of stress in the body is deemed as number one importance by Gemma, who has had first-hand experienced of the negative impacts that physical and psychological stress can have on the body, including: reduced ability to gain maximum training results, anxiety, depression, reduced desire to train, increased occurrence of illness and injury, long-standing pain and long-term health complaints.
Therefore, she prides herself on educating and inspiring others to respect the body and gain an ideal balance of high level fitness, strength, power and stability whilst mastering the art of rest, relaxation and stress management in order to keep the body and mind in an optimum, harmonious state, maximising health.
So…Whether you are tired, stressed and run down; or you have a long-standing niggle, aches and pains or an injury which is stalling your training advancements and restricting you in everyday activities, then massage can offer you instant relief and many benefits to your health and wellbeing as a whole, which will allow you to move with less restriction and progress rapidly in your training.
MASSAGE THERAPY PRICES WITH GEMMA
Initial Comprehensive Consultation

90 mins

£

90
Subsequent One-Off Treatments

60 mins

£

75
Subsequent One-Off Treatments

90 mins

£

110
Emergency Clinic

Saturdays 9am-12pm only

60 mins

£

85
5 x 60 min treatments

£

340

£35 saving!
5 x 90 min treatments

£

495

£55 saving!
10 x 60 min treatments

£

675

£75 saving!
10 x 90 min treatments

£

990

£110 saving!