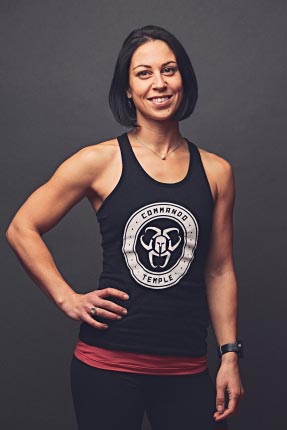 OPERATIONS MANAGER & RESIDENT STRONG WOMAN
Mayyah has a long history of involvement in health and fitness, having competed as a county standard sprinter for a number of years whilst at school, and taking part in practically every sport or physical challenge she had access to.
It felt like a natural progression for her to then go on to study a BSc (Hons) in Sports science and Physiology at Leeds University, where she further honed her knowledge of the science behind top sports performance, and factors that may limit it.
Following this she spent 4 years as an outdoor activity instructor teaching both children and adults a multitude of disciplines ranging from surfing and kayaking to air rifle shooting and archery. She is passionate about showing others the benefit of enjoying great movement, and building confidence with strength.
Over the last year 4 years, Mayyah has been an avid Grip Sport competitor, and is now a multiple world record holder in this, whilst more recently she has been an active competitor in the sport of Strongwoman and placed 3rd at Britain's Strongest Woman in 2015 and Qualified for Europe's Strongest Woman in the same year. Unfortunately she suffered an ACL rupture (whilst playing netball of all things) before being able to compete, and has spent the last year rehabbing in order to make a comeback in 2017!
Qualifications and Credits
BSc (Hons) Sports Science and Physiology
Strong First Girya (SFG) Level 1
Strong First Lifter (SFL) certified
OLF Extreme Kettlebell Certified Instructor
OLF Olympic Weightlifting Certified Instructor
Primal Move Fundamentals Instructor
Functional rehab specialist (core Kinetic)
 Steve Maxwell Movement Seminar July 2014
Andy Bolton and Benedikt Magnussen Powerlifting Workshop August 2014
Laurence Shahlaei Strongman Seminar October 2013
Dan John Intervention Workshop 2014
Donna Moore, World's Strongest Woman Strongman Workshop October 2016
3rd Place at Britain's Strongest Woman 2015
Strong Woman Competition @ Villain Barbell Club 1st Place.
2.25 x Bodyweight Deadlift.
78kg Atlas Stone lift (no tacky)
Multiple World Record Holder In Grip Sport.
Current World's Strongest Hands 2016 U72kg Women's Category
England's Strong Woman Competition National Finalist
PERSONAL TRAINING PRICES WITH MAYYAH
MONTHLY SESSIONS
Block-book weekly sessions per month.
Save up to £20 per hour over individual sessions.
1 SESSION PER WEEK

(60 MINS)

£

260

per month
1 SESSIONS PER WEEK

(90 MINS)

£

390

per month
2 SESSIONS PER WEEK

(60 MINS)

£

480

per month
ONE-OFF SESSIONS
Book a single or block of sessions on your timetable.
Pay as you train or in advance.
COMMANDO BLITZ
Commando Training sessions per week over a 3 month window.
Train one-on-one or as a pair.
It will not be easy! But your time and effort will reward you many times over!!!
Big cost savings for an upfront commitment.
4 SESSIONS PER WEEK

(60 MINS)

1 Person

£

2,640

for 3 months
4 SESSIONS PER WEEK

(60 MINS)

2 People

£

3,960

for 3 months