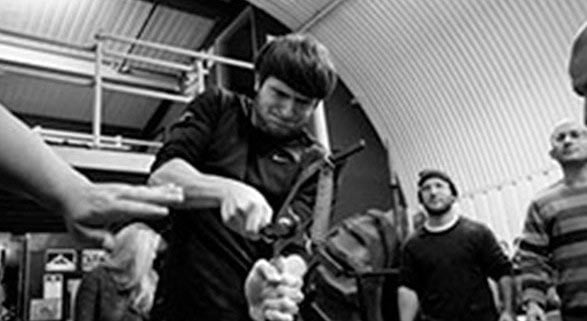 "Rob is tirelessly hard working with bags of enthusiasm with many diverse skills. He is driven, focused and always determined to further educate and improve himself through participation, dedication and hard training!"
David Horne (World of grip founder/owner, grip sport and steel bending legend)
The Commando Temple regularly runs Grip sport competitions with David Hornes approval (see David Hornes impressive training history and experience here) 
There are several grip sport competitors at the Temple including Mayyah and Fitsz who between them have many world records in the lighter weight divisions.
Rob attained 'Britain's strongest hands under 83kg class' in 2014 and is aiming for greater things in 2015
The Commando Temple is an impressive beast for all things grip..come and join us! Grip, bend and pinch your way to a stronger lifting experience.
The biggest collection of grip training equipment and grip aids in London
Dinnie Stone Replicas @ 104, 147 and 207kg
Wrist rollers and various pull up grip aids
V2 Vulcan gripper
Globe (Thomas Inch style) Circus Bells x6 incremental weights up to 78kg!
Viking press and Conans Wheel
Steel Bending wraps and most importantly STEEL TO BEND!
Grip strength Dynamometers x2
Thomas Inch Replica circus bells @21, 32, 43, 65,9, 71.7 and x2 bells @ 78kg
The full range of David Hornes grip tops and loading pins
Ivanko super gripper, John Brookfeild gripper, Hand Grippers and COC grippers.
Heavy Blacksmiths Anvil @126kg (pimped up for additional uses)
56kg Anvil
Thick stubby 2 1/2″ and 3″ Bars, Long axle bar, Watsons Dr Toms bar, fat gripz,
Manilla Climbing ropes and a 7m long rig!
Kettlebells up to 93.3kg
Chalk! and lots of it!
D.Bells up to 80kg in pairs
For you hand balance specialists and calisthenic kings we have gymnastic rings two pommel horse's and a Vaulting box.
See one of the largest collections of strongman kit in the UK here housed at The Commando Temple
https://bestronger.co.uk/wp-content/uploads/2014/09/Services-slider-19.jpg
391
587
WEBWORKS
http://bestronger.co.uk/wp-content/uploads/2014/08/cropped-FB-Logo.png
WEBWORKS
2014-09-03 12:48:20
2016-06-27 18:03:23
GRIP SPORT & COACHING