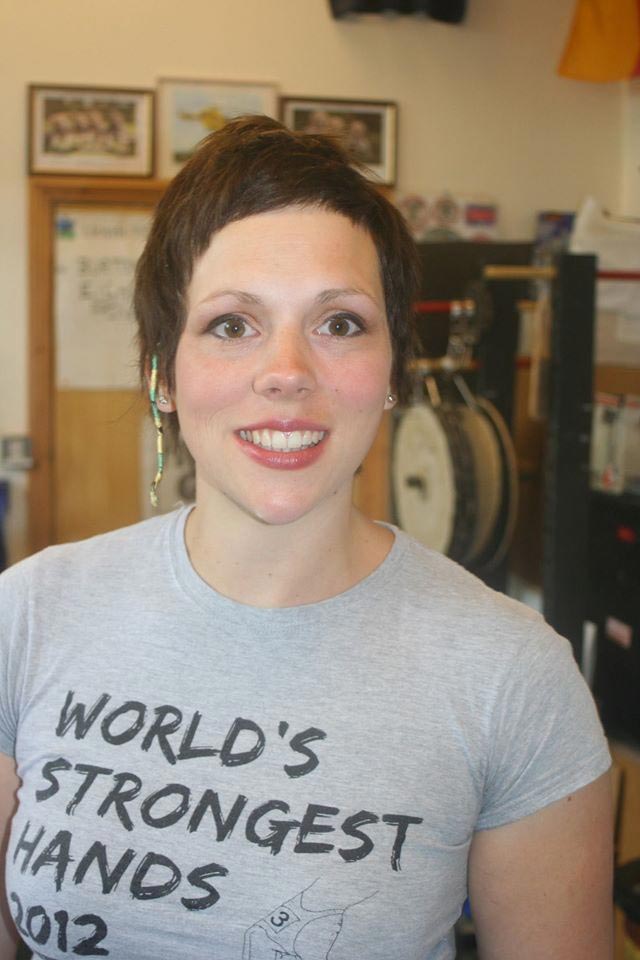 Elizabeth Horne is widely regarded as being THE leading female grip sport athlete in the world! With more world records to her name than I've had hot dinners, Elizabeth isn't just 'strong for a girl', she has a stronger grip than 99% of men out there. She's one of only 3 women in the world to have certified on the Captain's of Crush 2 gripper, and her achievements don't end there! Elizabeth has also competed internationally in the sport of strongwoman, and in arm wrestling. To top it all, she's mother to 2 young daughters (and a dog called Samson!), all of whom she home schools, and she helps run David Horne's World of Grip with her husband David, who is pretty much the Godfather of Grip, and a world authority on the subject! Hear Rob's interview with David Horne here.
Elizabeth, thanks for taking the time to answer our questions, as I know you're incredibly busy doing all of the things mentioned above…
Q1. At what age did you get into strength sports as a whole, and what was it that got you hooked?
A. I've been lifting since I was ten. I started grip training very early on and participated in my first competition when I was twelve. I just loved it – I was always one of the biggest and tallest girls amongst my peers and with hindsight I can see that I embraced this fact because of training. It stopped mattering that I couldn't do cartwheels along a beam because I had something else to be the best at instead. I have genuinely never looked back since my first day of entering the gym.
Q2. I've briefly touched on some of your achievements. but have by no means spoken about your whole journey. Could you please touch on some of your highlights?
A. Well, I started competing in grip contests and all-round weightlifting at the age of 12. My next competitive foray was into armwrestling, which is something I've dipped in and out of over the years. We've never actually trained at an armwrestling club so all of my achievements in this sport have been purely through strength-based training. In my first international competition I got a bronze medal in the World Championships. I moved onto strongwoman contests when I was 17 – competing in an invitation-only event in Callander, Scotland that was the qualifier for the World's Strongest Woman that year. It was amazing to compete alongside athletes such as Jill Mills and Shannon Hartnett. I came back to strongwoman when my eldest daughter was toddling around and competed again in the World's – this time in Poland against Aneta Florczyk, Kristin Rhodes, Anki Oberg, and Kati Luoto. It was an amazing experience – we were treated like royalty and the crowds were huge! Grip has always been my first love and one I come back to time and again, competing regularly at events that we host. It's been interesting to see new talent coming through in recent years with more female athletes taking up the sport and giving me a run for my money on certain events – it's certainly spurred me on in a few things!
Q3. Which of your achievements mean the most to you?
A. All of them. Each and every victory or defeat has made me the athlete and character I am now and shaped my training and outlook. I can remember every win I have ever had in strongwoman and armwrestling – probably because these were less 'safe' sports for me with much stiffer competition than grip. I very fondly remember winning a strongwoman competition (actually Sussex Strongest Woman in 2007) by the hair of my teeth with grit and determination. I was delighted for days and it still warms me now to think of it. The bigger international contests were amazing and I am incredibly proud to have been part of them but for me I think the manner of winning matters too.
Q4. Will you ever make a comeback to strongwoman? And do you think you have what it takes to challenge some of the ladies at the top of the sport?
A. Probably not and no! Certainly not the heavyweight women now – even at my best with a lot of hard training and great coaching behind me I was only close to the top ladies on my pet events. I've had a period of a couple of years now where my training has had to take something of a backseat; raising two girls and working have given me less time and motivation than I would have liked. I'm back to training on a daily basis now but I am a long way off my former strengths (you really do lose it if you don't use it unfortunately!). If I ever do compete again then it would be in a lighter weight class and only on a local or national level for fun.
Q5. What is it that motivates you to continue training and keep putting in the hard graft day in, day out?
A. Fear of getting fatter! Not just that – training makes me feel good. When I train daily, even if it's exhausting, I feel healthier and more alive. It's a huge part of my life. After experiencing major surgery and illness and feeling the ensuing weakness I vowed not to let it happen again if I could prevent it. I absolutely hate feeling weak and there's definitely a sense of empowerment in a good workout. I train with my husband, who happens to be my coach, my best friend and my training partner. So most of the time, it's fun too!
Q6. What are your long-term goals? And what is it that you'd most like to be remembered for?
A. Right now, my long term goal is simply to get stronger, fitter, leaner and healthier. I would
love to be in competitive shape again but I know it will take months if not years to achieve. When I can hold my own I'm planning on invading the Commando Temple for a training session! I don't have any specific goals in terms of competitions and records. The day that I manage to get 20 reps out of a 100kg deadlift again will be a very happy one for me!
Find out more about Elizabeth and David Horne's World of Grip at www.davidhorne-gripmaster.com, where you can find out about grip competitions, products and much more.
https://bestronger.co.uk/wp-content/uploads/2015/05/1015530_10151439300710812_1754079428_o-e1431525445665.jpg
960
640
Mayyah Blair
https://bestronger.co.uk/wp-content/uploads/2014/08/cropped-FB-Logo.png
Mayyah Blair
2015-05-13 14:02:48
2016-07-28 18:31:57
Elizabeth Horne, The World's Best Modern-Day Female Grip-Sport Athlete – By Mayyah Blair