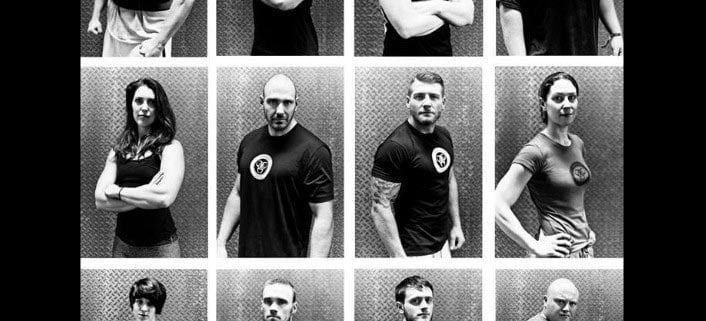 Ladies and Gents!
It's been a little while since we wrote one of these updates, but I'm sure you're all aware of how busy things have been, and how much we've managed to achieve over the last 6 months or so.
Obviously we won't be able to cover all of our news, but we've managed to whittle it all down to the biggest highlights.
WEBSITE LAUNCH
Firstly, our website (www.bestronger.co.uk) has just had a major overhaul. The finished product is something that we're very proud of, and we cannot thank our website designer (and resident Krav Maga guru) Paul Cline enough for all of his hard work over the last month. You should be able to navigate your way around this website so much easier and booking into sessions is now a doddle. We've had loads of great pieces of artwork produced by Sam Simpson which make it look the mutt's nuts!
WORLD CLASS EDUCATION
Despite the lack of contact from us over the last few months, we've certainly not been resting on our laurels. Not only have we had LOADS of world class coaches and educators at The Temple providing the very best education available (more about that below!), we've also continued to add to our awesome collection of kit, some of which is being housed in our new THIRD RAILWAY ARCH! Without the support of you guys, none of this would have been possible. So a huge thanks from us.
Some of the big names that we've hosted at The Temple have been:
Andy Bolton and Benedikt Magnussen. Just 2 weeks after teaching their powerlifting workshop here, Benedikt went on to break the new Deadlift World Record! …we have heard from loads of people that they believe The Temple has special air that helps people achieve more ;-)
The powerlifting workshop was so popular (all the spots were sold within 3 days!), that we brought the guys back for yet another date, which again sold out.
We also had the world famous movement specialist, kettlebell coach and black belt BJJ practitioner, Steve Maxwell here in July, teaching his Mobility and Conditioning seminar, and once again, all the spaces were sold out in days. He dropped some serious knowledge bombs over the course of the day, and had some great things to say about the facility.
NEW KIT AND EQUIPMENT
Over the last few months you guys have probably spotted all the new bits of kit that have been turning up at the gym, and many of you have enjoyed using them. These include:
-A Viking Press and Conan's Wheel
-3 Replica Dinnie Stones http://en.wikipedia.org/wiki/Donald_Dinnie
-A 92kg Kettlebell
-56kg Anvil
-Another powerlifting bench
-Texas Deadlift Bar
We will keep adding to what we have, to ensure that you all have the very best kit available!
STRONG COMMENT PODCAST
A couple of months ago we launched our Strong Comment podcast, and so far, we've had interviews with Steve Maxwell, Andy Bolton and Benedikt Magnusson, and most recently, grip legend, David Horne. You can listen to the first episodes by clicking on the link here…https://bestronger.co.uk/media/
We'll continue bringing you top class interviews with the best in the business, so make sure you let us know who you'd like to hear from.
COMMANDO TEMPLE CHAMPIONS!
As per usual, our Commando Temple athletes have been doing us proud; representing the club at Strongman and Strongwoman events.
On Saturday 30th August, Mayyah Blair, Teodora Sklayne, Lou Sinniah-Burr and Clara Mosha competed at the Villian Barbell Club Strongwoman competition and not only did Mayyah take 1st place, but we also managed to get a Commando Temple 1, 2, 3 on the podium; with Teodora in 2nd place and Lou in 3rd.
Then the following day, Joe Dudley took part in the HSC Novice Strongman Comp in Kent…and took the 1st place spot on the podium!
John Carter, Pete Marsden, Darren Hibbert and James Raper have also represented the Temple on numerous occasions, and are getting the world of Strongman/Strongwoman talking about The Commando Temple.
Congrats to all involved, and thanks to all the supporters who have turned out to watch them!
Over the next few months we have a jam-packed calendar of events for you all to look forward to including:
-26th October – Fitsz's Calisthenics Masterclass. £50 per head for 8 hours tuition. Book online under 'events' at clients.mindbodyonline.com
30th November – Commando Temple's Strongest Man. Competition costs £30 to enter, but free for spectators. There will be a hog roast, freshly ground coffee and tea, and loads of cool things to see. 2 x Britain's Strongest Man Laurence Shahlaei will be refereeing, and Les Wiltshire will be compering.
14th December – Commando Temple's Strongest Woman. All as above, the event will be awesome for both competitors and spectators alike. Book up to compete at clients.mindbodyonline.com, and select the Commando Temple events section.
Keep an eye out for more news from us in 2 weeks time, and if you'd like us to include any of your newsworthy items, please don't hesitate to contact us.
Be Stronger!
The Commando Temple Team!
https://bestronger.co.uk/wp-content/uploads/2014/10/StrongmanWomanFinal-.jpg
960
706
Mayyah Blair
https://bestronger.co.uk/wp-content/uploads/2014/08/cropped-FB-Logo.png
Mayyah Blair
2014-10-24 15:28:56
2017-10-27 11:23:07
Commando Temple Summer to Autumn Round-Up 2014