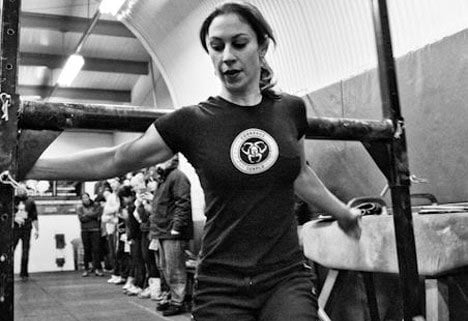 Just over 6 weeks ago it was confirmed that both myself and Kat (fellow Temple badass, ridiculously strong woman, and great friend), had been nominated and accepted to compete in Britain's Strongest Woman in Northampton, in the U63kg category.
Almost immediately after I got over the initial excitement and surprise of getting through, I was hit by a wave of fear, nervousness and pressure, and realised that it was time to start taking things a lot more seriously than I had done so far.
Being granted one of the 12 spots for Strongwoman competitors across the whole of Britain meant that I'd been awarded a spot that others had been turned down for, so the last thing I'd want is to be a sub par competitor.
As an athlete, it's hugely important to be able to look at your performance objectively, be able to analyse where your strengths and weaknesses lie, and to be honest enough with yourself (and be able to accept honesty from your coaches) about where you may need to regress/push yourself more/address underlying issues. These conversations and realisations aren't easy, but for anyone to make true progress and push beyond physical plateaus or mental blocks, they have to happen.
So, several weeks ago, I spoke with Rob (my partner/coach/biggest supporter/giver of brutally honest feedback), and we discussed what we each thought I needed to do. Those of you who train with your other halves will probably understand that this aspect of your relationship is often not the easiest part to navigate, and while I know that Rob is great at pushing me to do things that I'd never attempt alone, and that his coach's eye for spotting errors is second to none…I'm not great at taking criticism from him. Ha! I know he'll be laughing right now at how much of a massive understatement that last line is
In the end we decided that we'd work together on my baseline conditioning sessions, and he'd help put together my training programme, but that I would work with a training partner who would be able to push me HARD, and I'd get specialist advice from a powerlifting coach who could work with me to improve my worst event by far….my deadlift.
So far so good! I've implemented 2 big changes in the way I'm training now.
1. I've been working with powerlifting coach Paul Marsh for 4 weeks now, and my confidence, progress and technical knowledge have shot through the roof! His knowledge is fantastic, and his mix of no bulls*t coaching, and ability to impart his wisdom second to none.
Just over 9 months ago I suffered a bit of a training setback, when whilst attempting an odd lift with a 75kg Husafel Stone, it dropped forward unexpectedly, and caused a back injury which affected my performance for a few months, but the biggest setback it caused me was a loss of confidence in my body and its abilities. The mind is a powerful beast, which is more than capable of allowing ideas and mental blocks to grow legs and start sprinting ahead unchecked if you allow it to.
Perhaps the biggest part of Paul's job has been to help me to regain my conviction in my body's capabilities. We've been addressing the existing weaknesses in my back, but perhaps the biggest block has been my struggle to trust that the strength is now there. I'm lifting totally pain free now, and have found that this has had great crossovers to a number of my other events.
2. I'm training with an incredible training partner once a week. For the last month, I've been catching up with Anna-Maria Ronnqvist once a week for an events training session. This girl is one of the strongest woman I know, and is encouraging, motivating and has such high energy that it's impossible not to feel inspired.
I find that training with someone stronger than myself stops me from putting mental limits on what I believe I can achieve. Seeing another woman smashing through imagined barriers expands the limits of possibility, and so far, all I see is progress.
Now, with just over 11 weeks to go until competition time, I'm feeling great! Wish me luck, and hopefully I'll see a few of you in Northampton
https://bestronger.co.uk/wp-content/uploads/2014/07/female-t-front.jpg
468
468
Mayyah Blair
https://bestronger.co.uk/wp-content/uploads/2014/08/cropped-FB-Logo.png
Mayyah Blair
2015-03-25 16:08:31
2017-10-27 11:22:12
Britain's Strongest Woman Competition 2015. Blog by Mayyah Blair