Last Saturday (30th August), a team of 4 strong ladies from the Commando Temple along with an army of fans and supporters made the trip up to
Villain Barbell Club

in Mill Hill for their Strongwoman Competition.

All of the girls had put in a lot of time and energy preparing for the 4 events over the last month or so, and we all knew that anything could happen on the day. The trophy they were all vying for was a HUGE Thor Hammer, which was one of the most awesome trophies we'd ever laid eyes on!

 Upon entering the facility, you could sense the nerves from all of the competitors, yet the vibe was friendly. The day was also the opening day for the Villain Barbell Club guys, so there was a pretty large crowd, all there to watch the comp and a number of different demos and challenges that had been set for the day.
 The Events:
-120kg Trap Bar Deadlift for reps in 75s
-Farmers Walk 15m drop and turn then 15m back (50kg each hand)
-Atlas Stones over 135mm Yoke (30, 40, 50, 60kg)
-Press Medley. 42kg Log, 24kg Kettlebell each hand, 35kg Keg, 31kg Circus Dumbbell (strongest side only)
 Without too much ado, and after a quick introduction to Olympic Lifting by Coach BJ Rule, the first of the Strongwoman events kicked off; deadlifts.
 The first to lift was Clara Mosha; an ex-bodybuilder and extremely dedicated athlete. This was her first ever Strongwoman competition, yet she'd taken to the training like an enthusiastic duck to water! Clara absolutely smashed it, whilst the crowd looked on in awe! With a massive 20 reps, the other competitors were both shocked and inspired.
 Next to go was Louise Sinniah-Burr – maybe a bit of a running theme here, but Lou is also an ex body-builder who's more recently turned her hand to Strongwoman. While everyone watched on and screamed encouragement, she managed to equal Clara's total of 20 reps.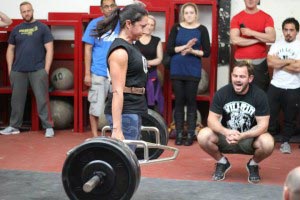 The next competitor, Teodora Sklayne – a PT in The City with one other competition under her belt then went up and didn't appear to stop for breath, knocking out a hugely impressive 23 reps!
 The final two took their turns, and despite putting in massive efforts, they did not manage to better the numbers produced by the first three girls. The standings after event 1 were, 1st Teodora, joint 2nd Lou and Clara, 4th Mayyah, and 5th Azita.
 Next was the Farmers Walk, and this event went by much quicker. The times were all pretty pacey, but Teodora and Mayyah (who'd previously competed in one other competition) took 1st and 2nd place.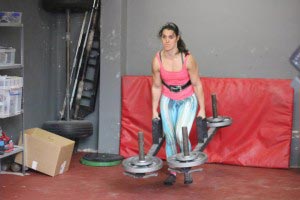 Then came the Atlas Stones event. Four stones in ascending order, with the top stone being equal to many of the ladies' bodyweights. Each lady put their all into it, with grunts and gurning galore, but out of all the competitors, it was only Mayyah who managed to lift all four over the Yoke, to deafening cheers from the crowd.
When the scores were announced, at this stage it was all still very close – with just 2 points separating Teodora and Mayyah, and then Lou and Clara not too much further behind.
T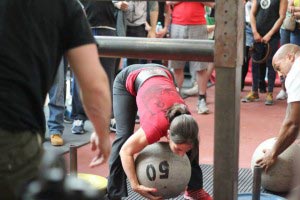 he final event began about 20 minutes later, and the crowd were excited to see what the outcome would be. So far each contestant had shown that they had some weaknesses in their overall game, and this event was going to be about who was able to hold their nerves and focus on each lift.
 As the first four contestants lifted, each of them struggled on one component or another, with the Circus Dumbbell eluding all of them. The crowd were on their feet, shouting and willing each lift to go up – with the contestants themselves also cheering each other on. The sense of camaraderie was overwhelming. At this point Lou was ahead in the event, with Teodora just behind her. For Mayyah to tie with Teodora, she had to lift all of the objects in the medley. With this knowledge she hit the event both determined and composed and, with the crowd willing her on every step of the way, managed to complete the medley with apparent ease.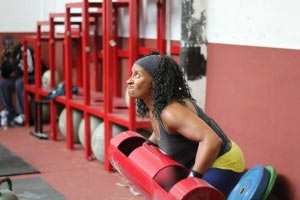 When the organisers announced that there would be tiebreaker, and that it was going to be 60kg back squats for reps in one minute, both girls looked nervous. The deadlifts had taken their toll on their legs, but there was one final challenge which lay between them and the Thor Hammer.
The 60 seconds seemed agonisingly long for both girls, who dug incredibly deep and showed a huge amount of heart. Mayyah managed to pull ahead though, and was victorious.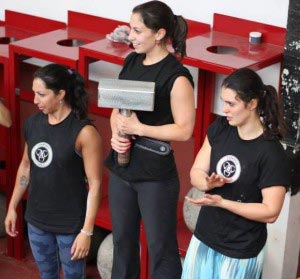 With a Commando Temple 1, 2, 3 on the podium both The Temple supporters and athletes were delighted. BOOOOOOOM!!
https://bestronger.co.uk/wp-content/uploads/2014/08/Instructors-image-mayyah-2.jpg
319
213
Mayyah Blair
https://bestronger.co.uk/wp-content/uploads/2014/08/cropped-FB-Logo.png
Mayyah Blair
2014-09-04 15:59:58
2017-10-27 11:37:47
A Clean Sweep for the Commando Temple Strongwoman Team!