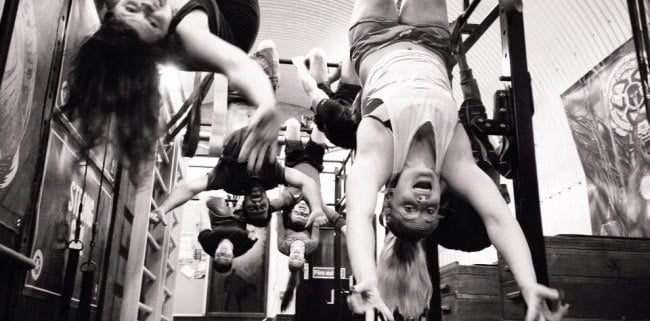 In Devon, I had been going to an independent gym where, self taught and motivated, I found myself fascinated by strength – weighted dips, chin ups, push ups and compound lifts began to dominate my workouts.
After deciding to move, I was desperate to find the right training ground; I was convinced that there must be a "decent" gym somewhere in South-East London. When I stumbled across the Commando Temple website, I seriously almost cried with relief. It sounds like an exaggeration, but I was overjoyed to see the rig, the plates, the weights, the stones…everything! Kit that I had only dreamt about using was suddenly within reach.
I watched the short introductory videos over and over again but confess that I was slightly nervous about making contact – I'm not as fit as I could be and I didn't want to feel intimidated.
I bit the bullet and sent an email; I think it was within a day that Fitsz called me back. The conversation was so different from the bog standard gym sell. I was actually talking to someone who was as excited as I was about 'out of the ordinary' fitness disciplines; I felt that my interest was valued – it was completely refreshing.
Shortly after that, I came up for a job interview and took the opportunity to visit the Temple; I was made to feel immediately welcome by the staff and a couple of regulars. There was a sense of fun, well measured with seriousness about training properly and training hard.
I booked my first Calisthenics class as soon as I moved. It was brilliant; really hard work
but not beyond the bounds of possibility! Lots of partnered work (with really good people!) made it easy to quickly make friends -and to be motivated and encouraged by a wide range of ages and stages. I'd gone from watching YouTube videos and speaking into the wind about things like front levers… to working with people who knew what they were and could actually do them! It was inspiring!
Feeling buoyed up and confident that I would not be made to feel an idiot, I asked Fitsz about the Strongman Calisthenics class. He assured me that anything that we did could be tailored if necessary – so I signed up.
On the first week, he had us shouldering Atlas Stones. I knew that the instruction that Fitsz gave would be spot on so I was not worried. He has a knack of giving enough instruction and yet holding back so that you still feel challenged. Of course there's a possibility that you will injure yourself or drop a plate on your foot doing some crazy move, but that's kind of part and parcel – right? My poor Dad frequently gets phone calls immediately following class when he has to hear me buzzing over the intricacies of flipping a tyre or how important grip strength is.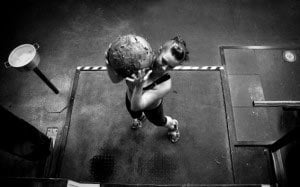 In spite of still not being anywhere near my peak, I am currently doing two classes a week and loving them. After a day of teaching, 'running' part of a 'commando lap' carrying a 6 foot man on my back (yes really!) is a great stress reliever.
The aesthetic of the gym also ticks lots of boxes – I can't imagine there's anywhere else where you can sit in an upholstered chair under a life size Darth Vader cut out while those around you squat, dip, deadlift and climb ropes.
I feel like I've only just begun on this next leg of an interesting fitness journey yet I'm already indebted to Rob, Fitsz, Mayyah and all at the CT for providing such an awesome service.
Cheers everyone and here's to a great year!
https://bestronger.co.uk/wp-content/uploads/2015/02/1908470_719972408081000_765170924765959407_n-e1423156395324.jpg
488
650
Mayyah Blair
https://bestronger.co.uk/wp-content/uploads/2014/08/cropped-FB-Logo.png
Mayyah Blair
2015-02-10 11:29:44
2017-10-27 11:19:14
My Experience of Calisthenics at The Commando Temple – By Seren Garner