MUAY THAI CLASSES AT THE COMMANDO TEMPLE
Muay Thai Classes with Coach, Personal Trainer, Black Belt 3rd Dan and Professional MMA Fighter, Richie Griffin
Muay Thai was founded in the 13th century and originates from Thailand. The sport is often referred to as the martial art of 8 limbs and incorporates the frequent use of punches and kicks using knees and elbows. The stand-up combat discipline also incorporates the use of fists in order to block and strike an opponent. Participants learn both defensive and offensive fighting skills, utilising agility based footwork and head movements in order to combine both mental and physical strength.
Not only is Muay Thai an extremely effective fighting technique, it is a fun, high intensity workout suitable for all genders and every ability. Physical and mental preparation will develop participants into fast and efficient fighters. Muay Thai is a practice that improves both the body and the mind.
Commando Temple Muay Thai
During a Commando Temple Muay Thai class you will practice a range of pad work, bag work, skipping and sparring. You will also be encouraged to focus on the practical application of your skillset through fight drills and sparring. Classes run between 60 and 75 minutes within one of the best facilities in London, boasting all of the appropriate equipment for both Muay Thai and Strength and Conditioning. We encourage students of every level to join our classes, whether you're trying Muay Thai for the first time, or have already spend years competing.
Your Coach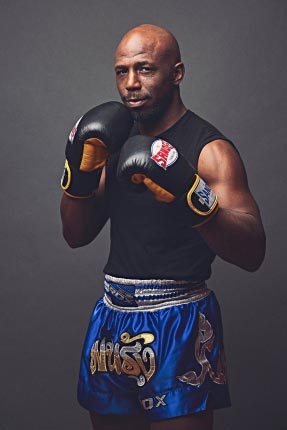 Richard Griffin, known to peers as Richie "the Myth" Griffin has over 20 years of Muay Thai experience. He has a background in fitness instructing, personal training, GP referral facilitating, kickboxing coaching and a professional MMA career spanning 10 years and over 20 fights.
Throughout his diverse career, Richie has developed an acute ability to simultaneously motivate, inspire and effectively teach the ancient discipline of Muay Thai. Proud of the close working relationships he has built, and continues to build, with a diverse client base – the coach has a unique way of inspiring confidence and encouraging individuals to reach their full potential.
"I started a pro MMA fighting career in 2008 and have had 20 fight thus far, I have tasted both victory and defeat but both have spurred me on to evolve and keep pushing forward.
After a session I would always feel relaxed, revitalised and have a new-found sense of confidence.
I love to see the growth in individuals and see them reach new targets/goals."
---
Muay Thai Classes with Richie Griffin
Tuesdays at 18:30 - 19:30 (Mixed ability class)
Tuesdays at 19:45 - 20:45 (Mixed ability class)
Thursdays at 19:20 - 20:20 (Mixed ability class)
Thursdays at 18:10 - 19:10 (Mixed ability class)
Saturdays at 11:15 - 12:15 (Mixed ability class)
Saturdays at 10:00 - 11:00 (Mixed ability class)
Open to Fight Club Pass members (£95 per month, access to all Fight Club Classes)
The Commando Temple is equipped with high quality combat training equipment and an ever-growing list of specialist kit housed in a world class training space. Our apparatus includes:
Full size martial arts training mat
Punch bags
Focus pads
Kick shields
Protective equipment, shin pads, belly pads
Boxing gloves
Skipping ropes
As well as Muay Thai classes, we currently hold weekly classes in these combative disciplines:
We also house one of the best collections of strength and conditioning equipment in the UK and cater for professional fighters working alongside their existing coaches.
BOOK YOUR NEXT MUAY THAI CLASS ONLINE WITH
---
Be Stronger!
Contact us now to start your journey with the Temple Fight Club.
Enquire about our Muay Thai classes, Personal Training and bespoke group workshops.