Oscar's Post Workout Vegan Bolognese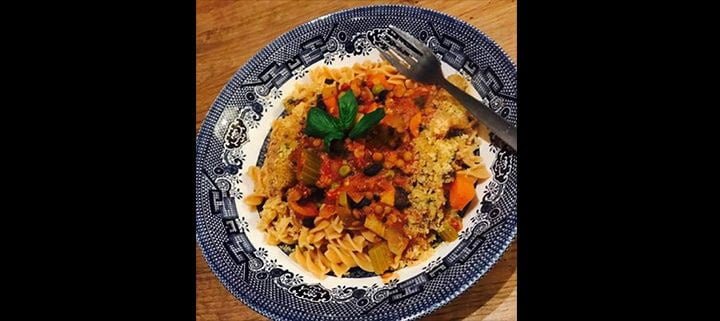 Oscar Stephenson – one of our Powerlifting Coaches here at the Commando Temple has been teasing us with some tasty looking recipes, so we decided to get in on the action and post up one of his recipes here for the Commando Temple Community to try out:
A couple of hours after training I like to eat a pretty substantial meal containing plenty of complex carbohydrates and protein to fuel my recovery. This week I decided to make a Bolognese style sauce and serve it with high protein chickpea pasta. Since I usually prepare my meals ahead of time I cooked a big batch on Sunday to last through the week.
Vegetarians and vegans often struggle to consume enough high quality protein and calories to optimally support their training and recovery. Since plant based proteins are less bioavailable than animal proteins and often contain sub optimal quantities of certain essential amino acids I recommend that vegans aim for a slightly higher intake than the general population (about 1.5-1.8g per kilo of bodyweight seems to work well for most), and make sure to eat a wide variety of protein sources each day. With a little planning it's pretty easy (and delicious) to reach your daily protein needs by eating a wide variety of pulses, grains, legumes, nuts, and seeds.
My (largely improvised) recipe:
4 large onions
6 cloves of garlic
5 carrots
7 sticks of celery
2 cups puy lentils (pre simmered in a separate pan)
1.5 cups garden peas
1 cup red lentils
2 tins black beans
400g chestnut mushrooms
2 tins chopped tomatoes
500ml passata
2 tsp marmite (to make stock)
2 bay leaves
1 generous pinch of dried oregano
1 generous pinch of dried thyme
2 tsp ground cinnamon
1 tsp grated nutmeg
1 large handful fresh basil, roughly chopped
Salt, to taste
Sautée the onions and garlic in a large saucepan until they begin to soften. While this is happening simmer the puy lentils in a separate pan over a medium heat for about 15 minutes.
Chop the carrots and celery and add them to the pot. Boil a kettle and dissolve the marmite in about 1l of hot water to make stock (marmite is a source of vitamin B12, a common deficiency among vegans)
Add the cooked lentils, beans, tomatoes, passata, stock and herbs (excluding the basil) and spices to the pot and simmer over a low heat for about 20 minutes stirring occasionally. Optional: add a splash of red wine at this point for added depth.
Add the peas and red lentils to the pot and simmer for another 15 minutes stirring occasionally. If you add the peas earlier than this they tend to overcook a little. After removing the pan from the heat stir the basil through and leave to stand. It will be pretty tasty now but will be even better the following day.
Serve with your choice of pasta – I went with Profusion chickpea pasta due to the high protein content.
I garnished mine with more fresh basil and some nutritional yeast. Nutritional yeast (Nooch to those of us who consume it frequently) is great for sprinkling on pretty much anything savoury. It gives a mildly cheesy flavour and is high in protein, often contains B12 and other nutrients as well.
Buon apettito!
https://bestronger.co.uk/wp-content/uploads/2017/11/vegan-bolognese.jpg
321
720
Fiona Blair
https://bestronger.co.uk/wp-content/uploads/2014/08/cropped-FB-Logo.png
Fiona Blair
2017-11-17 11:32:08
2018-10-08 13:20:56
Oscar's Post Workout Vegan Bolognese