MIXED MARTIAL ARTS CLASSES (MMA)
Mixed Martial Arts Classes with Coach, Personal Trainer, Black Belt 3rd Dan and Professional MMA Fighter, Richie Griffin.
MMA is a full contact combat sport involving standing and ground-based grappling and striking techniques. Currently the fastest growing global sport, it is made up of a combination of other fighting styles such as Wrestling, Boxing, Muay Thai and Brazilian Jiu Jitsu. MMA inspires an increase in confidence, discipline and general fitness – practiced within an environment that always promotes mutual support, camaraderie and healthy competition among participants.
The history of the discipline dates back to the Greek Olympic games in 648BC, when the multidisciplinary fighting sport Pankration was introduced. MMA has since become prominent through both the USA with the UFC, and Japan with Pride FC, cementing the sport's popularity worldwide.

Commando Temple Mixed Martial Arts Classes
During a 60-75 minute Commando Temple MMA Class, you will work through a range of skills such as striking, takedowns, clinch work, ground striking, throws and submissions. You will also be encouraged to increase your cardio and perfect your technique.
Anyone can join our Mixed Martial Arts classes regardless of their current level of proficiency, and will participate in mixed ability groups of 10-20 individuals. We offer an initial trial class free of charge and make sure to provide every participant with all aspects required to progress in this dynamic and inspiring sport – from our facility, equipment and the extensive experience of your coach. We recommend bringing both a mouth guard and a groin guard, wear comfortable training gear and remove all jewellery. Water is available for you to fill your own bottle and we urge all students to leave their egos at the door.
Your Coach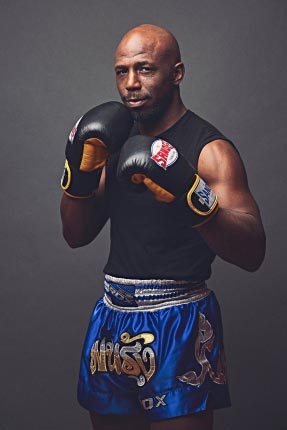 Richard Griffin, known to peers as Richie "the Myth" Griffin has a professional MMA career spanning 10 years and 20 fights. He has a background in fitness instructing; personal training; GP referral facilitating; kick box coaching and over 20 years of Muay Thai experience. Richie combines his specialist skills from various different fighting disciplines in order to build on multifaceted techniques and conditioning – progressing the MMA game of his trainees to the next level.
Proud of the close working relationships he has built, and continues to build with a diverse client base – Richie has a unique way of inspiring confidence and encouraging individuals to reach their full potential.
Contact us now to start your journey with the Temple Fight Club.
Enquire about Mixed Martial Arts Personal Training.
MMA Classes will return in 2021. Contact us about Muay Thai classes and coaching.
The Commando Temple is equipped with high quality combat training equipment and an ever-growing list of specialist kit housed in a world class training space. Our apparatus includes:
Full size martial arts training mat
Punch bags
Focus pads
Kick shields
Protective equipment
Boxing gloves
Skipping ropes
As well as Mixed Martial Arts classes, we currently hold weekly classes in these combative disciplines:
We also house one of the best collections of strength and conditioning equipment in the UK and cater for professional fighters working alongside their existing coaches.
Richie Griffin
Commando Temple MMA Coach
"I started a pro MMA fighting career in 2008 and have had 20 fight thus far, I have tasted both victory and defeat but both have spurred me on to evolve and keep pushing forward.
After a session I would always feel relaxed, revitalised and have a new-found sense of confidence.
I love to see the growth in individuals and see them reach new targets/goals."