Adam Warwicker is one of the latest Coaches to be welcomed into the Commando Temple team and runs an Olympic Weightlifting Class from the Temple every Wednesday and Saturday. He has been a strength and conditioning coach for 10 years and is the Founder of the North London Weightlifting Club.
We tapped into Adam's knowledge and experience and asked if he would share his top 5 tips with the Commando Temple Community, and here's what he had to say:
1. Deload frequently: deloading is reducing the amount of work you do in a session. You can deload by reducing the amount of sets while increasing the intensity of your workout, for example week 1 you do 6 sets of 3 on squats, on week 3 deload to 3 sets of 3, week 4 go back to your normal amount of work. You can also deload by reducing the weight you do while maintaining the amount of sets, even a reduction of 10% can have a dramatic effect on the nervous system and recovery. You may have a much higher quality of work too.
A taper works similarly except planned over longer periods: a two week taper towards a planned personal best lift or a competition would work by starting the taper to a set intensity and volume. E.g. 70% of 1RM intensity and with high sets and reps. Towards the end of the taper you would want to increase the intensity to 90-95% and reduce the amount of reps and sets. This is more like a maintenance period which won't exhaust you neurally or physically.
2. Alternate training cycles. Alternate between accumulation phases that focus on volume, hypertrophy, strength, and muscular adaptations, with intensification phases that focus on high intensity and near maximal neural output.
3. Squat every day! Once technique in weightlifting is proficient it would be time to focus more on what will get you stronger: squats and pulls… increasing your squat frequency to daily and varying throughout a microcycle (a week) the intensity, reps, sets, and exercise (front squat, back squat etc.) You will find that your squat rapidly increases. Here is an example of my week: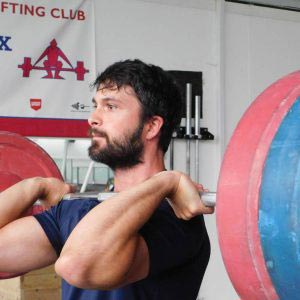 Monday/heavy 95% – front squat 3×1, 3×2, 3×3
Tuesday/light 70% – paused back squat 6×1
Wednesday/medium 80-85% – eccentrics, chains, bands, overhead squat 8×2
Thursday/light 60-70% – paused front squat, split squat 5×6
Friday/heavy 100%+ – back squat
This is an example of variation that is infinitely adjustable.
4. Do lots of simple work. Nothing is going to build a better body than fundamental movements. Presses, pulls, squats and accessory/remedial exercises should be the staple of work logs.
5. 'Two a day' is something I did much of when I had time, and it was the best training protocol I can recommend and recommended by many coaches around the world. Split your sessions up into simple work and technical work. Do your technical lifts in the AM after 4-6 hours rest do your simple work. For those who want to focus on one element of their training, the squat for example, you can squat twice in that day, for example Front Squats in the morning and Back Squats in the PM, low reps in the morning, high reps in the evening etc.
If you would like to tap into Adam's expertise even further, then do come along to the Olympic Weightlifting classes at the Commando Temple– details of the timetable can be found here, and remember, the first ever class that you try out with us is absolutely free! All you need to do is click on this link and follow the instructions.
Alternatively if you would like to do some personal training with Adam or one of our other Coaches, please checkout their bios and details of the packages they offer here. For further information regarding any of our services, do not hesitate to get in touch via our contact form.
Strong Regards
The Commando Temple Team
https://bestronger.co.uk/wp-content/uploads/2017/08/adam-warwicker-weghlifting-coach-at-the-commando-temple-8-e1507752512251.jpg
386
1008
Fiona Blair
https://bestronger.co.uk/wp-content/uploads/2014/08/cropped-FB-Logo.png
Fiona Blair
2017-10-12 17:29:44
2018-10-08 13:20:45
Top 5 Olympic Weightlifting Tips