At the beginning of the year we looked back on the achievements of 2016 and just 6 months on, the Commando Temple Community has already achieved a massive amount, smashing through 2017 with King Kong strength and enthusiasm.
2016 was full of challenges, and this year has been no exception what with the Temple Owner, Rob and his friend George undertaking what has been dubbed one of the hardest foot races on earth – The Marathon Des Sables, a 250km race across the Sahara Desert over 6 days: 75 litres of water/ heatstroke due to temps of 54 degrees Celsius / blisters /cracked skin / bleeding nostrils / clogged up throat, followed by food poisoning, a hospital drip and a climb of 4167 mtrs up Mount Toubkal (just because they could). With your help and support, the guys managed to raise over £20000, a phenomenal amount of money in aid of Walking with the Wounded, a charity that helps injured Servicemen and Women get back into work. Many of you generously showed your support through sponsorship and some of you also put your warrior heads on, taking part in various challenges concocted by the Commando Temple, including the Dartmoor Dreadnought which took place in March this year. Working in teams of 3 or 4, 17 of you trekked the wet, boggy 30 miles across Dartmoor carrying heavy logs all the way, weighing in at anywhere between 50-80kg!
You'd think the thought of sand in your butt cheeks or bleeding nostrils would be enough to put you off following in the footsteps of Rob and George, but not for Mayyah, Michelle Steenhuis, Dave Creegan, Sabina Skala and Div Williams plus one other who have already signed up for the MDS 2018. (Although we might add that not all were willing participants!)
If the MDS isn't your thing, we hope you'll be as excited as we are to hear that after the success of this year's fundraising challenges, discussions to launch the next bout of savage events are already underway. Rob and George have been in touch and plan to work closely with Rosie – the Head of Events at The Not Forgotten Association, another hugely deserving organisation which was founded in 1920 shortly after the Great War came to an end, and supports veterans from all walks of life. Watch this space!
Success in the Ring!
Cuong and Fitsz have been working their strength and conditioning magic with Darryll Williams for over a year now. Williams won the English Super Middle Weight title back in April. He defeated the Champion Jermayne Smyle in his own back yard at the Leicester Arena in a fight of the year contender. Both fighters went toe to toe for 10 rounds in a closely contested match which the judges edged to Darryll Williams. Darryll successfully defended his English title in the highly anticipated rematch against Smyle at The Copperbox arena on July 8th. Darryll is now trained by Ricky Hatton and has his sights on The British Title. He should be back in the ring later in the year and will continue his S&C work at The Commando Temple.
Powerlifting Podium Finishes
The Powerlifting Club has introduced a 2nd class on Thursday evenings which is proving to be popular. The Club has also had a successful few months what with Lou,
Suzy, Emily, Joy, Emma and Cat competing at the All England Championships in May with podium finishes for all. Lou, Cat, Emily, Emma and Joy are also due to compete at the British Women's Classic Championships in Dover. There is a Greater London Divisional qualifier in early August and Syeda, Sid and Michael will all be competing. In September the Commonwealth Powerlifting Championships will be taking place in South Africa and Joy, Cat, Suzy, Emma, Lou and Emily have all been selected. We also have a new member, Tiarna, a Junior U52kg lifter who is going so that's an impressive 7 members who will be competing. Shortly after that we have Syeda who will be competing at the British Junior Championships in Scotland in November. Busy times! Have a strong competition guys, may the Commando Temple force be with you.
 The Fight Club Competes!
 At the end of June 4 members of the Commando Temple Fight Club brought home 3 Bronze medals from the IBJJF British Nationals. They had some nice sub wins, some wins on points and lost a few close fights. This month the club has seen its first couple of members venture out to take part in a K1 interclub. It was their first chance to use their skills in competition outside of the club and they experienced that strange combination of anxiety and adrenaline that comes with stepping in the ring. The club is proud of Anna, Emeric Sophie and Tony, not only for taking part, but for their great performance.
The Fight Club has recently seen the introduction of Shark-Tank Sundays. These days give members the opportunity to spar with martial artists of various backgrounds from outside the Temple. These opportunities are like Temple gold dust, and its great to see members making the most of them.
The club also has a new team logo – team T-Shirts, hoodies and rash guards to follow soon!
The Commando Family is Expanding…
This month we are saying goodbye to Liam who has recently graduated from University and is moving on to pastures new (congrats Liam!) and we say hello and welcome to two new coaches: Adam Warwicker and Dan Thomas.
Adam has over 10 years experience as a Strength and Conditioning Coach with a
background in Kung Fu and Gymnastics, and is also a competitive weightlifter (placing 1st at the London Regional Weightlifting Series), a weightlifting coach and Founder of the North London Weightlifting Club. Adam will be running an Olympic Weightlifting Club from the Temple, taking his clients through an intense weightlifting programme progressing from the basics of fundamental movements into the full Olympic disciplines of the sport.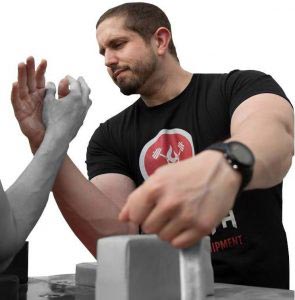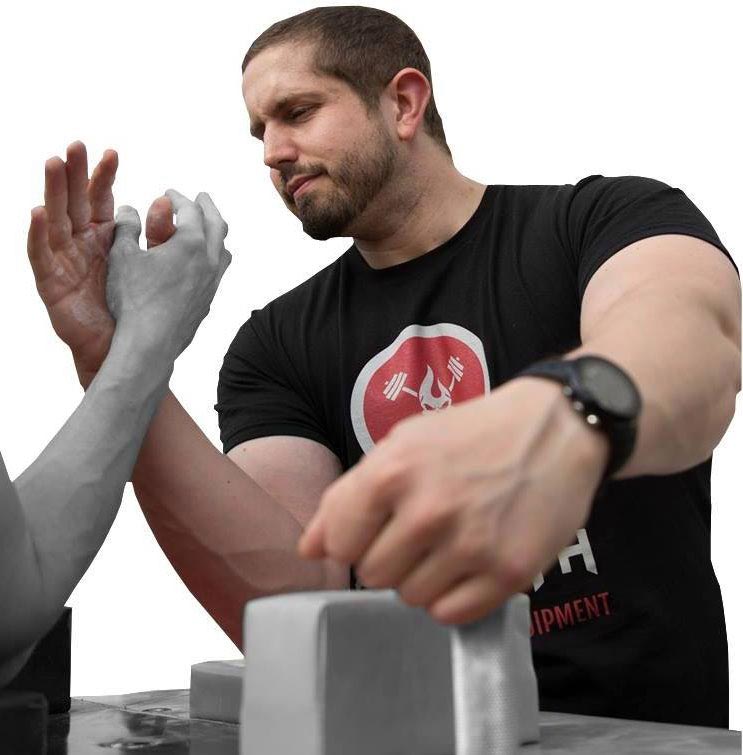 Dan will be introducing an Arm Wrestling Club and also taking on the Strongman class previously taught by Rob. His background in strength sport goes back a long way and he has represented Britain at 2 Arm Wrestling World Championships and on the ArmWars professional circuit with wins over national champions from across Europe. Last year Dan also started competing in Strongman with finishes in his first 4 competitions, and this year qualified for England's Strongest Man U105kg by coming 6th at Southern England's Strongest Man. Dan will also be seeing clients for one-to-one training specialising in strength training and competition prep for Strongman.
Dan has a fundraising mission of his own coming up in the near future where he plans to complete a deadlift challenge of lifting 50 tonnes in 5 hours ("50 in 5") to raise money for the Cystic Fibrosis Trust, a charity very personal to him as his Girlfriend's Son has CF. Dan is also currently coaching a client for the World's Strongest Disabled Man which will take place on September 3rd and would love the Commando Community to head over to the competition to show their support on the day. I'm sure Dan will be posting more details in the near future.
 Happy Vibes at The Temple
 Another Coach to join the Commando family is Oscar who has been coming to the Temple for a while now. In 2014 Oscar began competing in powerlifting and in early 2016 started to assist in coaching the powerlifting club at the Temple. Since then he has coached athletes at both regional and national level.
At the start of this year Oscar began helping out with the running of the gym and focusing on coaching clients as his primary job and just last month he also began to coach the new Thursday evening powerlifting class. His interest in strength training began in 2012 – he used it as a tool to regain control of his life after years of suffering from depression and anxiety which he had previously managed with destructive behaviour.
Having spent a long time managing his own personal problems and doing a lot of therapy work on himself, Oscar now offers strength training with an emphasis on cultivating happiness. His clients are given tools to use outside the gym to focus on setting short and long term goals, and to help with the management of stress and low mood.
"There are few things I can think of that are more defiantly life affirming when you are feeling low than unracking something heavy, feeling the crushing weight of the world on your shoulders driving you down…and standing right back up."
Love is in the Air!
If any of you thought you heard the sound of wedding (kettle)bells ringing in the distance then you were on to something…just a few weeks ago Commando Rob proposed to his Commando Queen Mayyah and she said YES! Congratulations guys, that's awesome news. That same week the guys also became parents to Red the German Shepherd Commando Dog, who I hear is bulking up nicely for her participation in future Temple challenges. Welcome Red!
This month's Strong Comment touches on just a few of the awesome achievements that have taken place in the Commando Community so far in what is turning out to be a beast of year! It never ceases to amaze us what you guys are capable of, keep up the good work!
Strong Regards,
The Commando Temple Team
https://bestronger.co.uk/wp-content/uploads/2017/08/image-1.jpg
568
963
Fiona Blair
http://bestronger.co.uk/wp-content/uploads/2014/08/cropped-FB-Logo.png
Fiona Blair
2017-08-03 11:22:26
2017-10-27 11:23:32
Strong Comment August 2017!