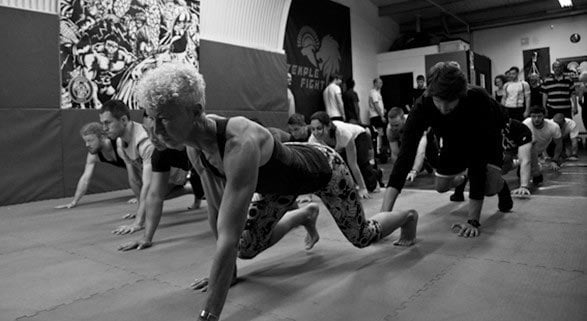 STRENGTH & CONDITIONING CLASSES
Strength & Conditioning Classes are varied, fun and fast-paced sessions, combining many aspects of strength training.
We love our ground work, so expect rolling and crawling as part of the warm up – movements that may seem simple but you may find surprisingly challenging, and extremely effective. Combined with kettlebells, sandbags, partner drills and strongman events, you'll be lifting, carrying, flipping, hammering and dragging your way to a much stronger, leaner and healthier body.
Participants are often grouped into mixed ability teams to reach a particular goal which builds a great sense of community and camaraderie. You'll be pushed to your limits, safely, and see the benefits of this hybrid workout in a very short time.
Commando Conditioning classes run on Monday evenings and are attended by a dedicated bunch who are committed to their training. Like all our classes, we nurture an environment of mutual support and comradeship, so you'll be encouraged to push your boundaries and overcome obstacles safely, while having a lot of fun at the same time.
Be stronger.
Monday: 19:30 – 21:00
Price: £20 per class
(discounts for members & monthly packages)
"It was truly an honour to represent my country against the best in the world."
Dan has competed in 4 British National Championships and twice represented Britain at the World Arm Wrestling Championships. He's a BAF and ArmWars referee.