BRAZILIAN JIU JITSU CLASSES
Brazilian Jiu Jitsu is a martial art and combat sport that originated in the early 1900s. It was founded by the renowned Gracie family in Brazil, and the core principle of the practise is to force an opponent into submission (or a tap-out). This is achieved by using a skillset of chokeholds, lock joints, leverage, grip, knowledge, tactical skills and problem solving – which allow for efficiency of movement, patience, opportunity and complete control over a situation. Correct technique and taking the fight to the floor are vital to Brazilian Jiu Jitsu, and can allow a smaller, weaker fighter to dominate a larger, stronger opponent.
BJJ is revered as among the most effective martial arts in the world and has maintained its reputation since the sport's early days when it was practiced in the Ultimate Fighting Championship competition. Since then, it has come to the fore through No Holds Barred and the MMA (mixed martial arts). It is currently one of the most requested martial arts in the MMA and is even considered a national sport in Brazil, and taught as part of the national school curriculum in Abu Dhabi.
Commando Temple Brazilian Jiu Jitsu Classes
During one of our 90 minute Commando Temple BJJ classes we educate participants on all of the basics involved in this multi-faceted and absorbing combat sport. Teaching a variety of guards, grappling, position, movement, basic attacks and take-downs, our classes are perfect for all levels of participant – from beginner to intermediate level athletes. The classes are small,with 12 mixed ability trainees at most and cover: technique drilling, sparring, and several specific full sparring sessions in order for everyone to get the most out of every class. Students will partake in a range of conditioning through specific warm ups that are designed to assist in the realisation of moving to the ground – where most of Jiu Jitsu's action takes place. There is a free trial class for all new participants and we recommend bringing a mouth guard, a groin guard, comfortable training clothing and always leaving your ego at the door. Training gi's are provided on a first come first served basis, or you are welcome to use your own. Water is available for you to fill your own bottle.
Contact us to begin your journey with the Temple Fight Club, book a class, or enquire about our range of bespoke group workshops and exceptional personal training sessions.
Be Stronger.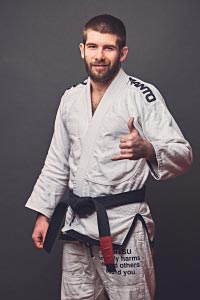 Brazilian Jiu Jitsu Classes with Dawid Farycki
Tuesdays at 18:00 - 19:15
Thursdays at 18:00 - 19:15
Fridays at 18:00 - 19:15 (No gi)
Saturdays at 13:30 - 14:30 (Open mat)
Price: £20 per class
(discounts for members & monthly packages)

BOOK YOUR NEXT BJJ CLASS ONLINE WITH
The Commando Temple is equipped with high quality combat training equipment and an ever-growing list of specialist kit housed in a world class training space. BJJ-specific apparatus includes:
Full size martial arts training studio
Protective equipment
Gis
As well as Brazilian Jiu Jitsu classes, we currently hold weekly classes in these combative disciplines:
We also house one of the best collections of strength and conditioning equipment in the UK and cater for professional fighters working alongside their existing coaches.