Powerlifting Specialist Oscar Stephenson
The core principle behind Oscar's training methodology is to empower clients with knowledge, strengthening their minds as well as their bodies. Using proven principles in order to develop safe and effective programmes – he helps his clients to effectively reach their goals. This process is always a collaborative one, working alongside individuals to support them in making positive changes in and out of the gym. Oscar teaches a range of techniques for managing stress, low mood and anxiety, which have been instrumental in his own recovery journey with depression and anxiety. One particular aspect that Oscar finds most satisfaction in, is aiding his clients in identifying their own values, and in turn supporting them in taking the pragmatic steps needed to live the life that they desire.
Oscar began training with barbells in his mid-twenties. However at the time, he was completely unaware when putting that first heavy bar on his back, that this moment would set him on a long path which would ultimately change almost everything about his life. Having struggled with depression and anxiety from an early age, he had spent long periods of time self-medicating with drugs and alcohol, becoming reckless and self-destructive due to the belief that he could never be truly happy. For Oscar, life didn't seem worth living – yet thankfully a desperate part of him recognised the very real possibility of not living beyond the age of thirty. It was with this realisation that he decided to start exercising, believing that he had exhausted every other option. He had nothing left to lose.
---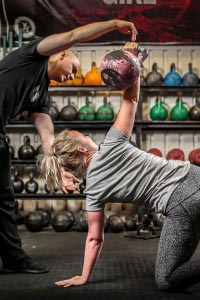 Training changed everything for Oscar. He began to feel a new sense of achievement and value within himself and his progress. It gave a feeling of purpose and clarity that he had never experienced before. Heavy barbell training demands an almost meditative level of focus. For the duration of that fleeting moment in time, all stresses and dark thoughts fall away and there is nothing left but yourself and the bar. He felt like an alchemist, walking into the gym and transmuting all of the anger and hurt inside of himself into a positive action. Oscar began competing in powerlifting in 2014.
Training and therapy allowed him to take control of his life. Strength training teaches you to think in terms of progression, with gradual exposure and adaptation to stress. It teaches you to take manageable, incremental steps towards your goals. Perhaps most importantly it teaches you that today's pain is not forever and that every challenge is an opportunity for growth. It grounds you powerfully in the objective reality of the present moment.
Slowly Oscar replaced the various self-destructive coping mechanisms he had previously relied on with healthier, more consistent habits. In 2016 he began his coaching career at The Commando Temple and is now immensely proud to train and work within an award winning facility, surrounded by world class coaches and athletes. Feeling very lucky to have grown and developed in such a challenging and rewarding environment, he's had the rare opportunity to learn from some of the best coaches in the business and work with internationally competitive powerlifters.
If you're ready to make good things happen in your life and feel like I may be able to help, please drop me a line and let's start a conversation – who knows where your training might lead you?
---
PERSONAL TRAINING PRICES WITH OSCAR
MONTHLY SESSIONS
Block-book weekly sessions per month.
Save up to £20 per hour over individual sessions.
1 SESSION PER WEEK

(60 MINS)

£

240

per month
1 SESSIONS PER WEEK

(90 MINS)

£

340

per month
2 SESSIONS PER WEEK

(60 MINS)

£

440

per month
2 SESSIONS PER WEEK

(90 MINS)

£

600

per month
ONE-OFF SESSIONS
Book a single or block of sessions on your timetable.
Pay as you train or in advance.
COMMANDO BLITZ
Commando Training sessions per week over a 3 month window.
Train one-on-one or as a pair.
It will not be easy! But your time and effort will reward you many times over!!!
Big cost savings for an upfront commitment.
4 SESSIONS PER WEEK

(60 MINS)

1 Person

£

2,400

for 3 months
4 SESSIONS PER WEEK

(60 MINS)

2 People

£

3,600

for 3 months