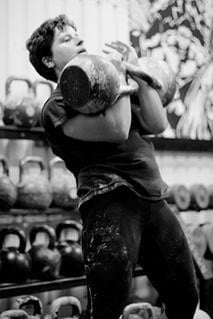 Katarina Helcmanovska
Kettlebell Sport Coach
"I Started lifting kettlebells in 2009 when I came across them in my local gym. I just thought lifting them looked cool and so I paid for a few PT sessions to get started.
I entered my first competition only after 2 months of lifting kbs and no knowledge of jerk or proper snatch. I did a set of push presses instead of jerk and survived snatch only because I was using a light 12kg bell. That competition was where I met the right bunch of people , gireviks, who helped me to move forward.
I learnt the basics at Steve Cotters courses and had a chance to practise lifting at weekly training sessions with BJ Rule.
 I WAS GETTING BETTER WITH THE BASICS BUT STILL FELT I NEEDED TO LEARN MORE, MUCH MORE.
At the next competition held in Croatia I met Gregor Sobocan ( Master of Sport) and I never looked back since. Gregor is my coach ever since.
Gregor is a very experienced coach with an eye for perfection! He learnt from Ivan Denisov (absolute Worlds best) and Anton Anasenko ( pound for pound best). Mixing their training strategies with his own experience I get the best from all their knowledge combined.
In kb sport men perform jerk and long cycle with two bells while girls lift only one bell. I've been always curious about lifting doubles and only after few months of training I become quite good at it.
In my best sets I completed 100reps with 2x16kg in long cycle( LC), 78reps with 2x20kg in LC and 71reps with 2x20kg in jerk.
With one bell I completed 121 reps with 24kg in LC At the competition (131 reps in training), 104reps with 26kg in lc. In snatch I did 181reps with 16kg, 106 reps with 20kg and in one arm jerk 185reps with 20kg.
My results can still improve a but I can say that few years of lifting formed me into an experience lifter.
I also attended kb sport camp with Valery Fedorenko and Fedor Fuglev in Ukraine and Ivan Denisov's and Valery's sport camp in Greece.
I developed my own technique and I can help you develop yours!
As Valery says: 'There isn't one perfect technique but there is the perfect technique for YOU!'
He is referring to the fact that the differences in our body types calls out for different technique and that's why just copying another lifter is not enough if you don't understand why you are doing what you are doing"
Katarina Helcmanovska is one of the best Kettlebell Sport lifters in the UK and now she is training lifters for a once weekly strong coaching session at the Commando Temple!
Currently coached by Gregor Sobocan whose coaches are Anton Anasenko and Ivan Denisov – the two best lifters in the world at present.
In the last few years Kat has attended sport camps and kb certifications with some of the world's best lifters – Valery Fedorenko, Ivan Denisov , Fedor Fuglev.
https://bestronger.co.uk/wp-content/uploads/2014/08/Instructors-image-katarina1.jpg
319
213
webworks
https://bestronger.co.uk/wp-content/uploads/2014/08/cropped-FB-Logo.png
webworks
2014-08-15 11:18:08
2017-10-31 11:09:01
Katarina Helcmanovska